Parker County plays host to many hidden treasures, but few can compare to the exquisite J5 Ranch, a premiere cutting horse operation that lies on the West end of Weatherford, Texas.
Breeding
Our Leading Mares
Showing
Standing behind our Program
Excellence
Sales, Commitment, Service and our Team

Although it's a short commute from town, the drive, which consists of old, country roads and sparse stop signs, is one that even the best of navigation systems would question. Yet, as one approaches the main entrance of the 160-acre Ranch, it becomes clear that this property has a uniqueness to unveil behind the iron gates.
Previously known as the Harden Ranch, it was purchased by Constance Jaeggi in 2011. With the help of the family's trainer, Chubby Turner, the facility immediately underwent a transformation that has made it a location like none other. An indoor arena equipped with heating and air-conditioning makes for the ultimate training location, yet the Silver Spur Saloon is what keeps visitors of the ranch in awe.
Though the Jaeggi family stems from Geneva, Switzerland, they possess a passion for Texas and the Western lifestyle. This became the main focus of the ranch as not only a training facility, but also an ideal venue for entertaining when builders, architects and interior designers began their work back in 2011. Wood collected from old barns from across the nation and kept in its natural state embellishes the 5,000 square feet of the saloon and four apartments that sit adjacent. Every inch of the space introduces a different detail, from the J5 brand on soap bottles and pillowcases to velvet covered poker tables, wall kegs and wagon wheels. The Silver Spur Saloon takes one so far back in time that many prefer to stay.
. . . . . . . . . . . . . . . . . . . . . . . .
"It never hit me that it was going to turn into anything like this," Chubby Turner said of the J5 Ranch. "But it's been wonderful. They're such great people to be around. It's like family."
. . . . . . . . . . . . . . . . . . . . . . . .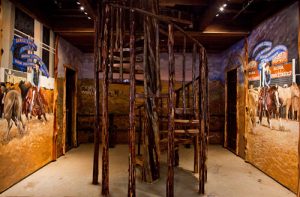 "Everybody that comes out here 'oohs and awes' over this place," said Turner, who lives on the ranch with his wife, Ginger. "You get the feeling like you're back in the old days. Everybody gets a kick out of it."
Builder Carl Welch maintained the vision behind the project and hired famous cowboy artist Roger Langford to carry out the Western scenes that adorn the walls and windows of what presents itself as an old Western town inside the arena.
A winding staircase made of cedar that leads from the balcony of the saloon down to the floor of the arena is accompanied by a mural on three sides that Langford completed. One wall, an old prairie scene, took Langford six months to paint. The other two are paintings of Constance and her father, Daniel, showing the ranch's stud, Dual R Smokin. From there, the walls present the scene of an old western town. Each "window scene" was hand-painted by Langford on wood, and delivers immense detail and creativity.
As Langford walked past his work, he pointed out the actual scene he envisioned taking place when he painted the people in the windows.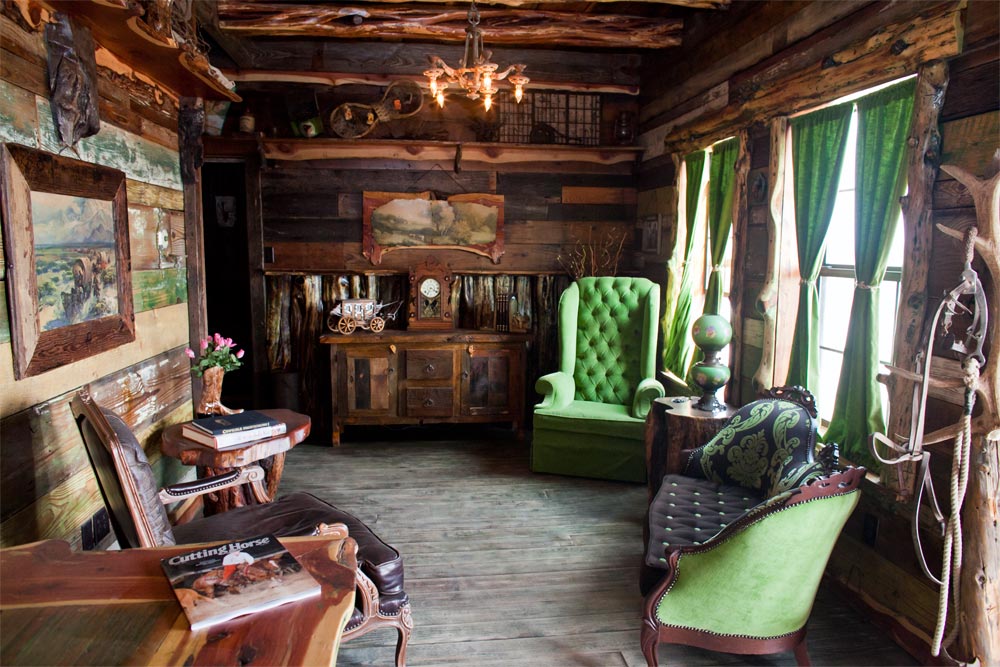 "This is the real estate guy trying to get to her and she's not cutting loose of any of her property," he said, pointing to one window.
"Here, my idea was that there's some bad guys in town. The sheriff is in town and he's reading about a bank robbery. That's one of the outlaws coming down the stairs," he said, describing the scene in another window.  "He spots the sheriff looking at who's here on the roster."
Langford also hand-painted the metal roll up doors on each side of the saloon to make them look like wood. After wrapping up his part of the two-year project about five months ago, Langford hadn't been back to the ranch. Upon seeing it again, he himself was in shock.
"Man, I still just can't believe this place," Langford said to Turner as the two reminisced on construction of the project. "This is the first time I've been back out here. It's amazing."
Roger Langford
Cowboy Artist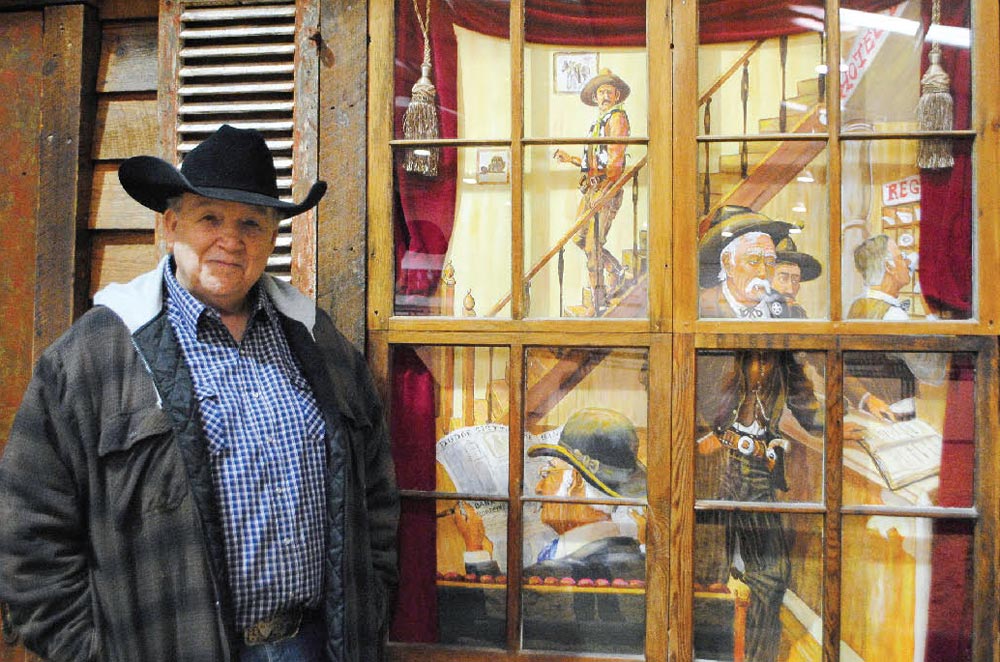 Roger Langford was raised on the "plains of West Texas" and began drawing at a young age. Working on ranches and rodeoing drove his passion for Western art. Langford was a professional bull rider in the PRCA until an injury forced him to retire from the circuit in 1976. He began working on ranches, which fueled his art of the cowboy life.  He has completed many ranch projects and has been featured in numerous award-winning magazines, such as Western Horseman, Southwest Art and The New Mexico Stockman. Langford was inducted into the Texas Rodeo Cowboy Hall of Fame in 2005 and serves as their official artist.
The Home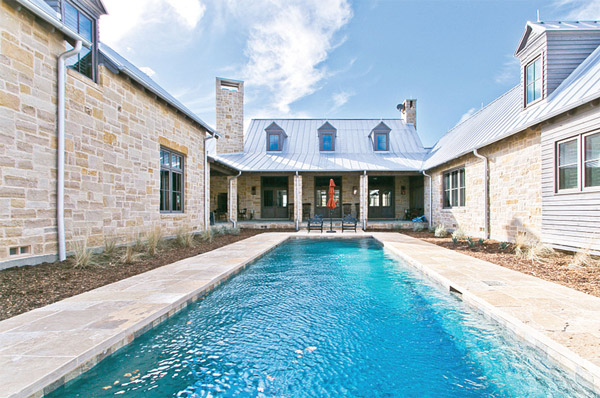 The main residence sits on an adjoining 90-acre ranch, referred to as the Champagne River Ranch. It was designed by award-winning architect Stephen B. Chambers, and was designed to reflect the West of the late 1800s and includes custom-designed furniture reminiscent of that period. It too incorporates old wood that was shipped to Weatherford for construction.
"The main house at the J5 Horse Ranch employs three historic timber frame structures within its U-shaped Lueder's limestone clad exterior," explained Stephanie Chambers, director of marketing for Stephen B. Chambers, Architects, Inc. "The Great Room is comprised of kitchen, dining and living and features a 36 ft. tall Revolutionary War-era hemlock timber barn moved from Mariaville, New York. Two 1860s single-pen log cabins form the sleeping areas."
The home is to be featured in a coffee table book about Texas Ranches later in the year.

Performance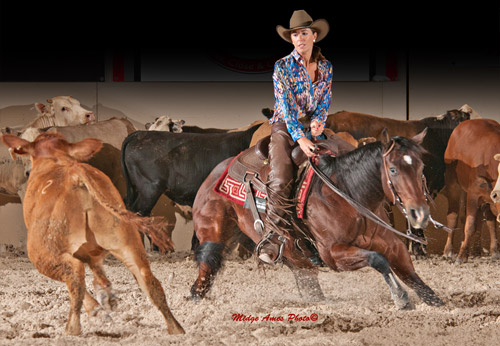 The J5 Ranch recently celebrated a World Championship when Turner finished No.1 in the Open at the NCHA World Finals aboard Once Time Choice and Jaeggi finished No. 1 in the Non Pro abroad Saguaro Ichi in 2014.
"It's a great achievement for all of us, especially for Chubby. But it says a lot about J5 too, that our program is working, and we hope to keep progressing," Constance Jaeggi explained.
This year Jaeggi and Turner will be attending all the Mercuria events around the country, with the goal of obtaining a Top 15 spot to advance to the 2016 NCHA Mercuria World Finals. Jaeggi will be showing her Cat Ichi gelding Saguaro Ichi, while Turner will be riding SVR Reys Smart Chic.
"It's a great achievement for all of us, especially for Chubby.  But it says a lot about J5 too, that our program is working, and we hope to keep progressing."
True Grit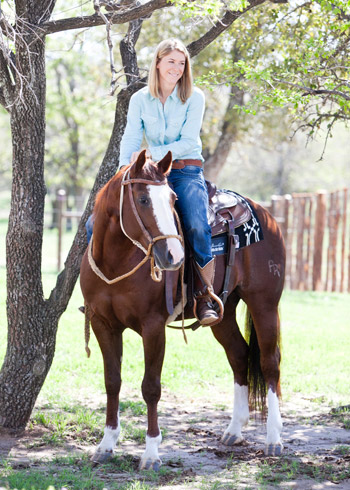 Constance Jaeggi moved to Texas in 2009 to attend TCU with hopes of also improving her showmanship skills. With the help of her trainer, Chubby Turner, Jaeggi has reached nearly $290,000 in NCHA earnings in just a few years. Although the 22-year-old said she had no idea at the time just how much of her life she would later devote to the sport, the roads have already become paved with success for this Swiss cowgirl turned Texan.
The name of the J5 Ranch originated from the Jaeggi family, which consists of Constance's parents, Daniel and Francesca, and her two younger siblings, Sam and Ben.
Constance described the ranch, which she now calls home, as "a little piece of heaven."
"When I go through that gate, I'm at home," she said of the J5. "We feel like it's a special place. It's very unique. It has a lot to do with the people."
When Jaeggi was attending TCU she had an apartment close to campus. Turner joked that she never stayed there.
"She had that apartment for two years, but she stayed with us most of the time," he said with a laugh. Even now, Jaeggi chooses to live with the Turners in their home on the ranch.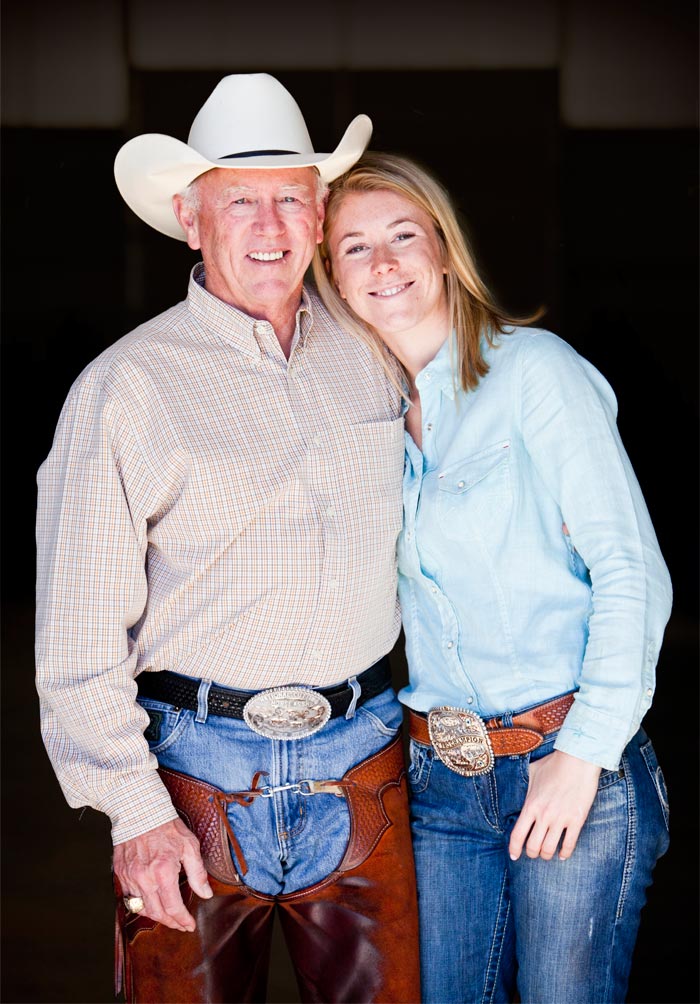 "I really found another family in Chubby and Ginger," said Jaeggi. "I call them my godparents. They're more than just friends or a trainer. They're like a second set of parents. I spend a lot of time with them. They're extremely honest people and they've always had our best interest at heart. They really took me under their wing. I feel like I've really grown up here a lot."
Ranch manager Sam Turner joked that Jaeggi is lost without Turner. Although the younger Turner trains cutters and had his own list of clients before going to work for the J5, he said Jaeggi strongly prefers to work her horses with Chubby.
"She won't work her horse with just me. She will if she doesn't have a choice, but if he's coming, we'll wait four hours for him to get here. He is her backbone," Turner said of the relationship between the two.
For Chubby, the feeling is mutual and he's thrilled to carry this family down the road again this year.
Jaeggi graduated from TCU in December 2013 with a major in business and a minor in energy trading. She is currently set to complete an internship with a private equity firm based in Fort Worth.  She also intends to make the top 15 in the Non-Pro World standings this year and take a shot at the winning title.